materac posiada rozpinany pokrowiec LYOCELL, pikowany włóknem klimatyzującym z pustego włókna PES – z boku wszyty materiał 3D wkład: komfortowa naturalna pianka BIOGREEN, FYZIOSYSTEM – 7 stref twardości

Materac wysokoelastyczny NATUR BIOGREEN-pokrowiec Lyocell
rozpinany pokrowiec LYOCELL, pikowany włóknem klimatyzującym z pustego włókna PES – gramatura 400 g/m2;
z boku wszyty materiał 3D
komfortowa naturalna pianka BIOGREEN
FYZIOSYSTEM – 7 stref twardości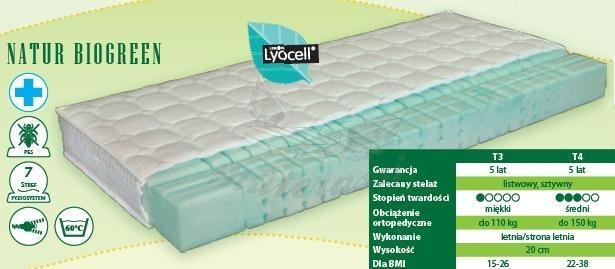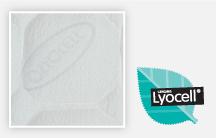 POKROWIEC LYOCELL - to materiał, którego właściwości są preferowane do proukcji materacy. Włókno wysokiej jakości dzięki któremu materiał jest aksamitnie delikatny, dobrze zachowuje kształt i sprawia wrażenie luksusowego. LYOCELL jest 100 % produktem naturalnym, którego bazę tworzy celuloza drzewna. Materiał bardzo dobrze pochłania i odprowadza wilgoć, szybko schnie, dzięki czemu gwarantuje wysoką higienę materaca. Materiał jest antybakteryjny naturalnie. Pokrowic bocznej części materaca został wytworzony w połączeniu z 3D materiałem i lyocellem, dla poprawienia klimatyzacji jego jądra. Pokrowiec jest zdejmowany i można go prać w temperaturze 60 °C. 
BIOGREEN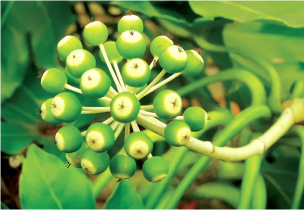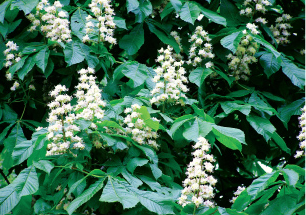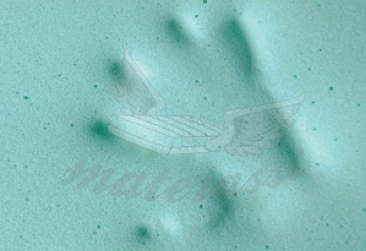 BIOGREEN  pianka jest przykładem, że połączenie natury z najnowocześniejszymi technologiami i odnawialnymi źródłami, jest też możliwe w produkcji materaców. To połączenie nie tylko oszczędza nasz ekosystem, ale zarazem wnosi odrobinę przyrody do naszych sypialni. Surowce produkowane z ropy są zastąpione w piance przez surowiec naturalny – olej rycynowy, który już od wielu lat jest wykorzystywany w farmaceutyce. Rośliny, z których jest produkowany, w trakcie wegetacji czerpią energię z ziemi i ze słońca, która następnie za pośrednictwem oleju, dostaje się do naszych materaców.
Pianka BIOGREEN jest napuszczona ekstraktem z aloesu, który w naturalny sposób podwyższa higienę materaca likwidując roztocza i bakterie. Zarazem nadaje materacowi charakterystyczny aromat, który jednak w krótkim czasie zwietrzeje.