Przewiewna płyta lateksowa; pianka HERBAL z wyciagiem z rumianku; sprezyny kieszonkowe; siedem stref twardosci; dolna warstwa pianka HERBAL z wyciagiem z rumianku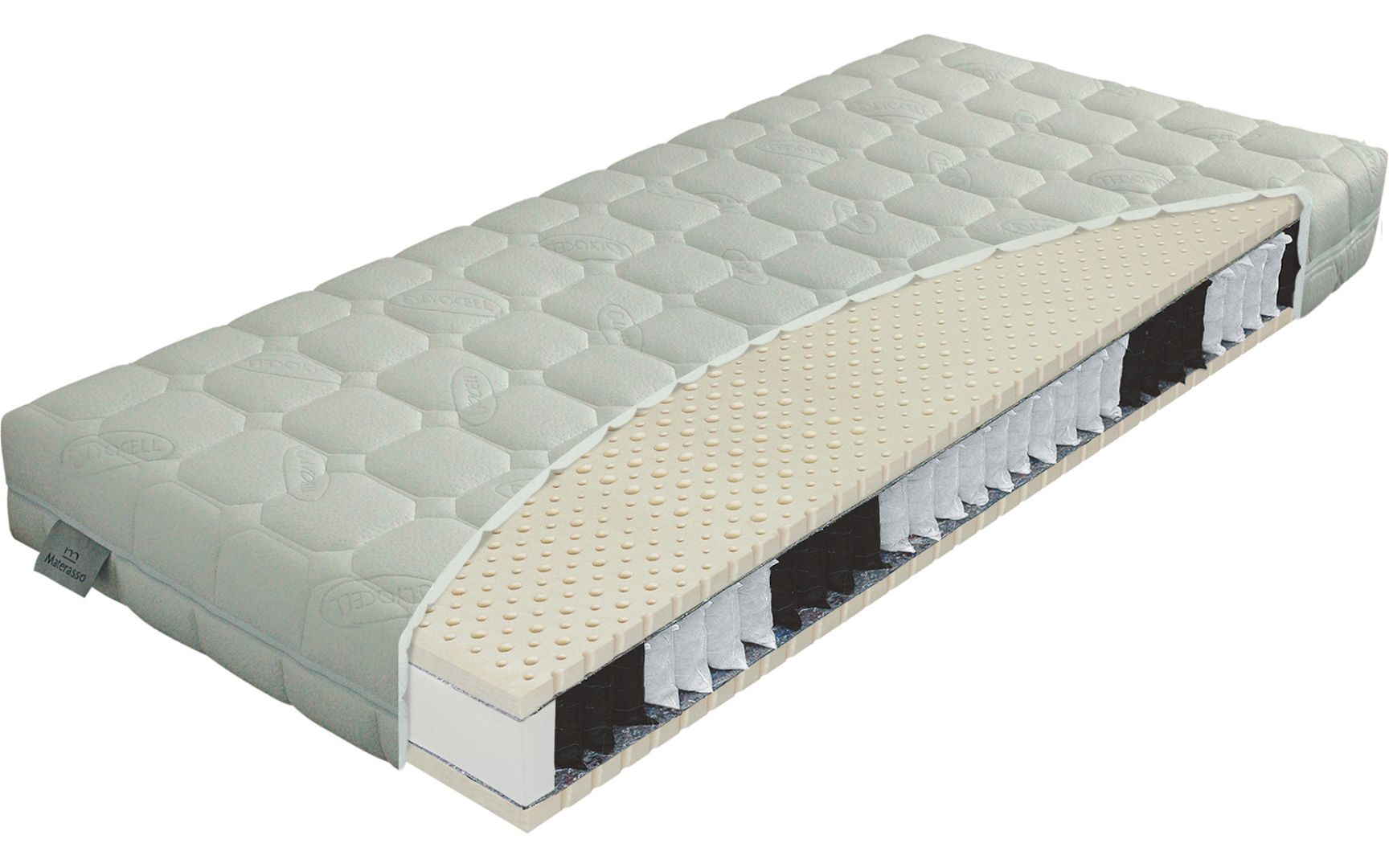 PRIMATOR BIO-EX ROYAL PL
Kolekcja

Materasso



Materac Primator Bio-Ex Royal to bardzo dobry wybór dla osób poszukujących niedrogiego rozwiązania dla osób narażonych na alergie. Tutaj bowiem, na jądrze materaca zbudowanego ze sprężyn kieszeniowych, a więc niezależnie działających od siebie, użyliśmy lateksu - materiału pochodzenia roślinnego. Sam wkład sprężyn kieszeniowych, odzwierciedla najbardziej fizjonomiczny układ tzw. siedmiu stref twardości, co pozwala nam uzyskać podczas snu optymalne podparcie każdej części ciała, przy jednoczesnym, maksymalnym ograniczeniu punktów nacisku z materaca na ciało. Ergonomia materaca, wsparta sprężystym, elastycznym punktowo lateksem gwarantuje nie tylko doskonałe właściwości ortopedyczne, ale także bezpieczeństwo zdrowia całego organizmu. Lateks ograniczy tutaj praktycznie do zera możliwość rozwoju roztoczy kurzu domowego, niweluje działania pyłków roślin, zapobiega rozwoju bakterii i zarodników pleśni. Dla jeszcze lepszego bezpieczeństwa zdrowia człowieka, materac jest standardowo doposażany w naturalny pokrowiec Lycoell, który już sam w sobie stanowi gwarancję bezpieczeństwa dla alergików. Jest to bowiem produkt uzyskiwany na bazie naturalnej celulozy drzewnej, którą Matka Natura wyposażyła w zdolność ograniczania żywotności szkodliwych bakterii, niwelowania nawet pyłków roślin. Dla Państwa wygody, ten średniotwardy materac wykonywany jest w wersjach uwzględniających Waszą masę ciała: wersja H2, dedykowana dla osób o wadze do 110 kg, wersja H3, dedykowana dla osób o wadze do 120 kg. a użyte materiały, klejenie organicznym, szwajcarskim klejem Simalfa, pozwoliło nam także uzyskać na ten model materaca certyfikat wyrobu medycznego I klasy.
| | | | |
| --- | --- | --- | --- |
| 21 cm | 7 | 140 kg | |
| Wysokość | Fyziosystem | Obciążenie | Twardość |
Pokrowiec materaca
Nasze dążenie do oferowania Państwu zdrowego snu, zgodnego z rytmami Natury najlepiej odzwierciedla pokrowiec Lyocell. Bazą tej luksusowej tkaniny materacowej jest tutaj celuloza drzewna, która nadaje jej aksamitnie delikatny dotyk, a jednocześnie czyni ją tkaniną bardzo mocną. Co ważne, jest to materiał doskonale pochłaniający i odprowadzający wilgoć, a więc pozwala utrzymywać higieniczny, suchy klimat na powierzchni materaca. Jest to istotna sprawa np. dla osób z tendencją do pocenia się, cierpiących na nadciśnienie tętnicze. Dodatkowo celuloza drzewna jest materiałem naturalnie antybakteryjnym, co podwaja bezpieczeństwo użytkowania dla osób z alergiami, chorobami układu oddechowego itp. Większość materaców standardowo wyposażonych w ten naturalny pokrowiec, dodatkowo otrzymuje specjalny pas wentylacyjny, który zapewnia znacznie lepszy obieg powietrza w materacu i wymianę ciepła. Całość tkaniny jest przeszywany w atrakcyjny wzór i gęsto pikowana, co wzmacnia uczucie przyjemności podczas snu. Pokrowiec ten można z materaca bardzo łatwo ściągać i prać w temperaturze do 60 st. C.
Rdzeń materaca
- obustronnie, przewiewna płyta lateksowa,- wersja H2 - siatka tapicerska,- wersja H3 - przekładka tapicerska - gramatura 800 g/m²,- siedmiostrefowa sprężyna kieszeniowa.