łóżko kontynentalne wnosi luksus i najnowszy trend do naszej sypialni
łóżko "continental bed"
Łóżka kontynentalne firmy MATERASSO wnoszą luksus i najnowszy trend do naszych sypialni. Jeśli chcą Państwo poczuć maksymalną wygodę, komfort i uczucie odprężenia w swojej sypialni to polecamy Państwu "Continental Bed"
Łóżka kontynentalne cieszą się dużą popularnością w Stanach Zjednoczonych i krajach Skandynawskich oraz zdobyły uznanie w eksluzywnych hotelach na całym świecie.
Podstawą łóżka kontynentalnego jest Boxspring - samodzielna podstawa, która pomaga materacowi dopasować się do naszego kształtu ciała.

 

Boxspring - jest dostępny w dwóch wersjach :   
boxspring

PIERRE , 

 

 

boxspring

JEAN,

 

 

boxspring

ANDRE
W trosce o Państwa wygodny sen do łóżka kontynentalnego zastosowano jakościowo dobry i wygodny materac kieszeniowy  z pianką wysokoelastyczną.
Stworzono również cztery warianty topów czyli materacy nawierzchniowych
TOP herbal stworzony z  pianki, która charakteryzuje się wysoką gęstością i wyjątkowym procesem formowania. 

 
HERBAL-pianka to miękka, przewiewna pianka, ktorej jednolita struktura gwarantuje niezmienną elastyczność przez długi okres czasu oraz  dostosowuje się do kształtu ciała i gwarantuje równomierne i komfortowe rozłożenie masy ciała. Do pianki został również dodany wyciąg z kwiatu malva sylvestris. Jest on symbolem komfortu i słodkiego aromatu. Olejki eteryczne uzyskiwane z kwiatu tej rośliny wspomagają oddychanie, zapewniają i wzmacniają relaksacyjne działanie snu.
 TOP lateks wykonany z kauczukowego mleczka
Lateks posiada wyjątkowe walory użytkowe, wysoką elastyczność, sprężystość, odporność na odkształcenia oraz zdolność zachowania swoich właściwości przez długi okres czasu użytkowania. LATEKS posiada doskonałą wentylację dzięki dużej ilości otworków umieszczonych w strukturze pianki, dzięki czemu zapewnia właściwe krążenie krwi. Materace lateksowe idealnie dopasowują się do kształtu ciała w każdym położeniu i zapewniają przyjemny komfort snu. 
TOP Nightfly komfortowa pianka wysokoelastyczna

TOP visco komfortowa pianka viscoelastyczna

To naturalna termoelastyczna pianka wyprodukowana na bazie oleju rycynowego. W porównaniu ze zwykłą termoelastyczną pianka oferuje większy komfort i jest ekologiczna dla środowiska. VISCOGREEN ze swą nadzwyczajną elastyczną strukturą lepiej dopasowuje się do kształtu ciała i szybciej reaguje na zmiany temperatury podczas nacisku, dzięki czemu sprawniej dopasowuje się od zmiany pozycji w czasie snu. Posiada znakomite właściwości regeneracyjne i antybakteryjne
Nowy design wezgłowia oraz nowoczesna konstrukcja ramy samonośnej łóża "Continental Bed" zostały zaprojektowana tak, aby podnieść komfort Waszego snu i wypoczynku.
Łóżko "Continental Bed"dostępny w 4 kolorach tkanin  
ISTNIEJE MOŻLIWOŚĆ STWORZENIA WŁASNEGO PROJEKTU ŁÓŻKA
w tym celu skontaktuj się ze sprzedawcą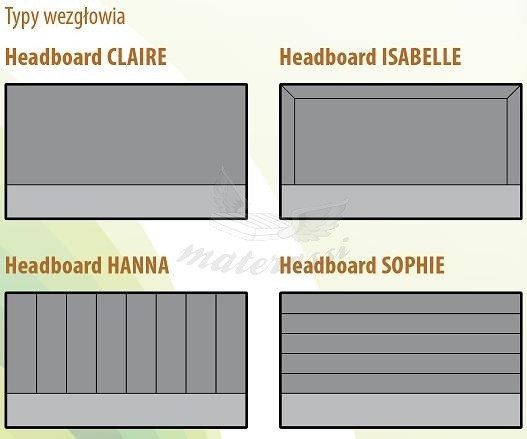 Łóżka kontynentalne są dostępne w 4 kolorowych tkaninach, materac nawierzchniowy jest w pokrowcu obiciowym. Łóżko składa się z materaca bazowego na ramie drewnianej, materaca dwustronnego, oraz materaca nawierzchniowego.
Nóżki oraz Otomana i nie wchodzą w skład kompletu i należy je zamówić osobno.